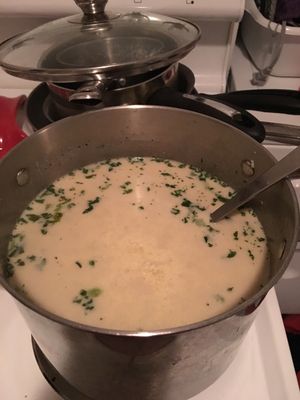 Joy. Even if we don't admit it, we want more of it in our lives. I'm on a great quest to have the most joyful life that I possibly can. A million dollars would make me extremely joyful, but the older I get and the more I experience, the more I realize that joy does not come from riches – although riches would be nice! 
I find that chasing and obtaining joy is a choice – one that I sometimes fumble, clutch and cry hysterically while laughing. I found myself in such a position this week over the execution of a simple recipe. This week's lesson on living a joyful life all began with my consuming desire for Zuppa Toscana Soup from the Olive Garden. And since I don't have a million dollars, I figured I better learn to cook it myself so I could eat it whenever I wanted. 
I bought all the ingredients, from Whole Foods no less, and that simple soup which would have cost me $9.99 for unlimited bowls, salad and breadsticks came to a whopping $22.00 worth of ingredients. But I didn't complain, there would be left overs and there would be enough to feed me and Jon so I was already coming out ahead. 
It wasn't until I sat down to cook that the fun began. I cut the potatoes and promptly knocked over the entire bowl. Potatoes flying everywhere and covered in dust and dog hair. I didn't have enough chicken broth, so I wound up mixing it with beef broth. I had to keep adding salt and it just didn't taste good. It was brown and bland and I was already having one of those days… and in the long list of other things that had happened that day that I can't even go into because this would become a five page essay, I once again decided I had two choices. Give up and throw in the towel. Or rejoice in the effort, praise the Lord and use some ghetto ingenuity. Jesus and Ghetto fabulous won out. 
I followed the rest of the directions and then did what any other gourmet chef would do. I tossed in two tablespoons of butter and grated a half of block of Cadmont Sharp Cheese into the soup, added more cream, pepper, garlic and salt, then chopped up the sausage and threw it in to simmer. Yes… cheese and butter make everything taste better and Jon Bush ate two bowls and put some up for work. And I knew he really liked it, we have the type of marriage when one doesn't like something the other has bought or made we tell each other. After Christmas, we were both exchanging gifts that we had bought each other – LOL. 
Joy, it can be elusive but cooking that darn soup taught me three specific things about the journey to joy that I want to share with you as we go into the new year. 
Find things that have nothing to do with what you usually do to pursue as a hobby. I just started seriously cooking. And I mean seriously, like learning about rues and sauces and marinades. I've mastered Brisket, Beef Stew, Quiche and now I make a mean Zuppa. Sometimes learning new things is frustrating but a journey to joy can't always be filled with victories. Embrace the detours, learn to improvise and laugh when you drop the potatoes. 
Cheese makes everything taste better. Except replace cheese with prayer. Prayer makes everything better. A joyful life is filled with prayer and while engaged in chopping, stirring, grating and tasting, you can also engage in conversation with the Lord. He's listening and He's watching, and He loves to hear the sound of you voice. He may even give you some advice on how to make the dish – or your life, even better. 
Don't be afraid of end result. The worst case scenario with my Zuppa adventure would have been that it would have been so bad that we couldn't have eaten it. I had already forewarned Jon that this might be the case, so he came in prepared to cook some oven baked fried shrimp, wipe my tears and encourage me to tackle Zuppa another day. And there have been days like this. You can't think about the money that was wasted or the time that was spent when you could have been doing something else… no, you have to jump in and try – that's what finding joy on the journey is all about. 
So Zuppa is in the books as mastered dish. Next up creamed spinach! 
I'd love to hear your thoughts! Feel free to shoot me a message or leave me a comment. And If you'd like my Zuppa Recipe let me know!