A Great Hope, Guest Post by Beth Jones 
Has something great happened in your life, when all of a sudden everything turned totally upside down and you're like, "What?!" 
As of this writing, it is Palm Sunday--the time of year when Christian believers celebrate Jesus' triumphant entry into Jerusalem, riding on a donkey and the people waved palm branches shouting, "Hosanna in the highest! Blessed is He who comes in the name of the Lord, even the King of Israel!" (John 12:13-13) 
By the time you read this blog post, it may be past Palm Sunday, but this post's message is still relevant, no matter what day or month it is. 
One minute the people are making such a happy brouhaha, and next thing you now they're crucifying the guy. Typical human behavior. Man is fickle. None of this took Jesus by surprise; He came to earth for such a time as this. He knows what is in man's heart and mind. (John 2:24)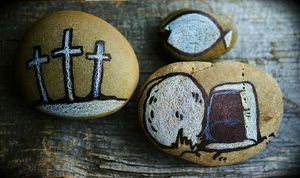 But wait, hold on a minute! When you're going through a dark storm, all is not lost. You don't need to despair. Easter is on its way! Jesus, after being tortured, dying on the Cross, and buried in a borrowed tomb, rose from the grave three days later, just as He said He would to His disciples! (Mark 9:31) 
We can read this true and powerful story with a great hope. Life can be so busy, hectic, and challenging. It can hurt deeply. You and I can get hit by Satan and his minions suddenly, out of seemingly nowhere. The devil often uses those closest to us or other believers to cause us the most pain, confusion, and doubt about God and ourselves.  
While I've experienced Satan's demonic attacks my entire life, the last few years the attacks have been coming against me more frequently and are much more intense than ever before. You wonder what in the world is going on here? 
Personally, I believe we are living in the end times and that is why. Satan knows his time is short. While many people have been saying for hundreds of years that Jesus is coming back soon and nobody knows the day or hour but God (Matthew 24;36), Jesus said we will know that His coming is near by the signs. (Luke 21:5-31) Today's headline news are the fulfillment of Biblical prophecies. We see Revelation coming to pass before our eyes.  
So Satan is increasing his attacks on Christian believers, seeking whom he may devour. (1 Peter 5:8) If he can't kill us, he'll do everything he can to distract, discourage, and derail us from our faith in Christ. The thief comes to steal, kill, and destroy. (John 10:10) 
But there is GOOD NEWS! We know that Easter is not about cute little bunnies or candy (although as a child, I always enjoyed my Easter basket and chocolate is good any time!). Easter is about Jesus dying for your sin and mine, and Him resurrecting from the grave so we'd be forgiven and live with God in Heaven forever.  
Easter is about the power of the Living, One and True God, the great 
I AM, the King of Kings, to whom all glory and praise and honor is due, forever and ever, amen! 
Jesus died so that you and I would live His abundant life. In our family, health, church, business, ministry, job, at the movies, on the road or in a plane, wherever we are and whatever we are doing. In church and in the marketplace. In the nations where God says, "Go," and sends us. (Isaiah 6:8) 
Are you living that abundant life right now? Are you fully using the spiritual gifts God has given you for His glory? Are you fulfilling your great purpose? 
Selah. Take a pause. Reflect and think on these things today. 
"The resurrection gives my life meaning and direction and the opportunity to start over, no matter what my circumstances."--Robert Flatt