November came and I realized I'd gained five pounds! Yikes! I looked over my goals and realized I missed a few! Ugh! I had started a new business and was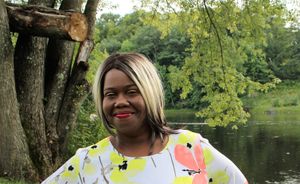 behind on learning the ropes. I was nowhere near finishing the Prayer Journal I was working on.  
I mean I was busy, 2017 has had some triumphs but as the end of another year dawned I wanted to make sure I had hit the mark! So I did what any other occasionally nutty overachiever does. I put together an 8 Week "Finish Strong!" Challenge for my Facebook group. 
Honestly, I started the Challenge strong and then I puttered out. I left those who said they wanted to go on the ride with me hanging, because every time I sat down to work on the plan, there was a new fire to put out, graphic design dramas, new business glitches, blogging issues, an unexpected trip. I wasn't dealing with it well. I finally threw up my hands, did what I could and limped through November. 
Revelation came when I threw up my hands... Hand held high are often a sign of surrender and in surrender comes great peace and in great peace comes great quiet. When you are surrounded by great quiet you can hear the smallest whisper. The Lord whispered when I gave up. Quality not quantity is what people need. Do less, do it better and be more consistent, that's what changes lives. Take time to seek the Living God and rest in His Presence.  
So I didn't finish strong in 2017, I left some things on the table, some things fell through the cracks, I had to let go of some things, forgive
some folks, forgive myself. I started some projects that just didn't get finished, but I'm OK with that. Because what's the point of pressing to finish when there was no real purpose, or joy, and forcing yourself to try was never God's plan? 
When I threw my hands up, I was able to refocus my health and wellness activities - back to smoothies and walking miles. I found a renewed passion for the Word and am spending more time reading, studying and seeking intimacy with the Lord.  I'm rolling into 2018 with a very explicit instruction - Quality as defined by the Lord over Quantity that I think is beneficial.  
Yep, I admit it, I didn't finish strong, but I am all the stronger for it! 
Much Love!  
Naima 
If this blog blesses you, I'd love to hear your thoughts! Feel free to drop me a note or share your comments on my social media sites! And we are now booking for 2018, if I can be of service through music or speaking please contact me! Email Naima