Irish Springs Bring Peace by Dr. Naima Johnston Bush, Founder of Refreshing Life With Naima
Every now and then I like to confess something just a little strange about myself.  I'm an avid War Movie buff with Hacksaw Ridge, Miracle at St. Anna's and When We Were Soldiers being my three favorites.  I am an introvert by nature, I like to be alone and although I love to sing, I don't really like being in front of people.  And Rum Raisin and Pistachio are my favorite ice cream flavors…  but one of the strangest things about me is that I have a peculiar fascination with soap. 
And I do mean peculiar. I love the way a good bar of soap feels in my hands.  I can tell you which brands have the best lather, which retain their scent the longest, and which ones get you the cleanest.  I can even tell you when brands change their formula resulting in inferior or superior soap quality.  My husband's love language is gift giving – and he gives good gifts.  Out of all of the wonderful gifts he gave me last Christmas, the gift I treasured the most was a basked of soaps he had curated from different shops and vendors – BEST GIFT EVER! I spent a good portion of Christmas Day with my nose in the basket inhaling deeply, opening soaps testing them out and placing them in baggies so I could retain their fragrance.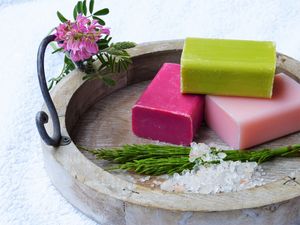 My struggles with food addiction have never been a secret, I walk this thing out on a daily basis.  I find in times of great strain it is easy to reach for a cookie, when I should be laying before the Lord.  The euphoria of the moment of chewing for some strange reason brings a sense of false calm and deceptive peace – because there is always a price to pay. 
These last few months have been difficult and I've found myself falling short quite a bit.  But then something interesting happened.  I was in that melancholic artist mood, distraught about some thing I can't even remember now, and I opened the fridge to see what was inside.  But then I thought – well actually I believe the Lord whispered to me – you need to wash your hands you've been cleaning.  
I found myself at the sink, lathering up my hands with some $5.00 soap that I had brought from the local department store, a good quality soap.  It was called Coastal Waters and the more I rubbed it together the thicker the lather became and the calmer I felt. I stood there for a good ten minutes, singing and washing my hands, lather everywhere, hands soft and wrinkled from the water.  But it felt so good, I felt so much better.  And let's face it, washing my hands is a much healthier habit then eating a bunch of junk food with my health challenges.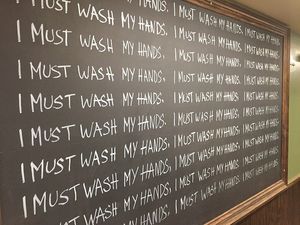 I thought to myself, what if every time I feel like the world is ending I came to the sink and washed my hands? What if the sink became my altar, my holy place? A memory floated up from the past at that moment… When I was in my early 30's working with the youth group living in Ohio, I would carry in my purse a box of Irish Spring Soap.  And whenever I needed a moment, needed to focus, needed peace, needed clarity, I would take that soap out and sniff it! Everyone would laugh at me, but I was able to accomplish so much more because of a love of soap that the Lord put in me.  Yes, Irish Springs brought me peace. 
Now when I feel like I need a moment, I run to the sink to wash my hands and sing or talk to Jesus.  It leaves me with a peace I can't express.  Maybe you need a touchstone, a holy place that you can run to when times are hard.  It may not be at the sink washing your hands, but finding out what it is will help you live a life of joy in the perfection of His will. 
So wash your hands. Make yourselves clean. Get your evil actions out of my sight!
Stop doing what is wrong! Isaiah 1:16