Jesus and Disney by Leann Lemons Winton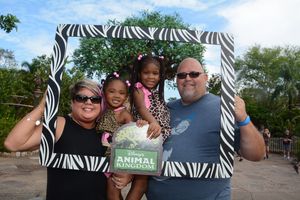 Now that I have your attention.  This is such a controversial statement. Trust me, I know!  Can the two even go together? Well, stick with me for a bit and let me show you what I think. 
DISCLAIMER: I do not agree with everything Disney.  
I said it. I don't agree with everything Disney.  In fact, there are a lot of things that I down right say will not be on my tv or in our sight.  That's just the plain truth of it.  As a mother of two beautiful girls, I waited for almost 20 years for them to come in to my life.  Having said that I am very careful to what they put into their eyes and ears.  
Being a pastor's wife, mom and business owner, I mull over every decision I make.  Things have to filter through lots of lenses.  First is through the lens of my savior Jesus Christ.  I have to first please Him and everything I do must represent Him.  I am also accountable to my husband, my family and the church we planted close to 10 years ago.  It weighs heavy on me that I am an example of Christ to my little world in central Indiana. 
I come from a home that was based on God and the foundations of the Bible. We were very poor growing up and almost every year we would make the trip to my grandparent's house in Deltona, Florida.  We would spend most of the time there hanging out and maybe going to the beach a couple of times but the highlight would be going to Walt Disney World.  
It was such a treat to be able to go.  I'm not really sure how my parents made it happen for my brother, sister and myself, but it made lasting memories that I cherish.  I dreamed of the day I could take my family to the most magical place on earth.  
This time was filled with such amazing memories for me and the most important memory was the importance of family.  You see, 20 years ago at the age of 20, my brother Jeff passed away.  I hold on to those very sweet and simple times my family got to spend together.  I decided that when I had a family, I wanted them to have such sweet memories too. 
In 20 years of ministry one of the saddest things we see is the lack of family.  In the two church plants that I have helped my husband plant this is a common denominator.  After the 20 years waiting for our daughters to come into our life through adoption, I was determined to make family a priority. 
My burden for family has brought these two things together, Jesus and Disney. 
Families seem to, now more than ever, have no time.  Our time is filled with work, school, sports, hobbies, and on and on.  Things that were foundations of a simpler life, like when I was growing up, are not a priority anymore.  There is no time for God or family. I mean, those things will always be there right?  
The simple truth is that we need to make these things a priority.  I started to help families find time for rest and togetherness so they can serve the Kingdom of God even better.  I found that when my family took a vacation, especially to Walt Disney World, we came back better equipped to minister to our community. 
The Disney bubble is a real thing.  Things happen when we get to Disney and escape the burdens of our busy lives. We have rested.  We have been inspired to create. We have bonded. We have made memories.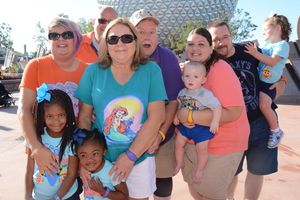 This love of God, families, and Disney has become a ministry for me.  How can Disney become a ministry?  I help families and especially pastor's families plan a Disney vacation on a tight budget.  I know how some struggle with finances and being burnt out and they need time to refresh.  They need to regroup. What better place to do that than by taking that dream trip to Disney.  
My sister and I started our Youtube channel over 5 years ago to show people how to accomplish this dream. We teach people how to go on any budget and make the most of your trip by using tips, tricks and hacks.  Also, we use it as a platform to tell people about Jesus.  This community needs it.  Disney is not a Christian company. I know that.  We see ourselves as a light to this community and have ministered publicly and privately to many over these years.  We have now expanded and have an Etsy shop where we sell Disney inspired candles and shirts.  And just recently I have become a Disney Travel Specialist and officially help families plan their trips to any of the Disney Destinations.  
I will say it again.  I do not agree with all that the Disney company does or says.  
I believe in family.  It's important to Jesus.  It's important to me. 
Leann Winton is a Pastor's Wife, mother, business owner, ministry leader and church planter who is passionate about Jesus, families, adoption and Disney. She has a growing YouTube Station with her sister and business partner, Amanda Lemons Ables where they share about Jesus, Disney reviews, tips, tricks and park visits to make a vacation to the Magical Kingdom affordable for all.  To learn more about Leann, the work she does or if you need help booking your Disney Vacation contact her at the links below!