Picking Weeds by Dr. Naima Johnston Bush, Founder, Refreshing Life with Naima
When I was a little girl, I thought that dandelions were the most beautiful flowers in the world.  Every spring they would pepper the project grass plots and I'd climb over the little chain link fence to pick a few and hand them as an offering of love to my mother. Bless her heart, my mom would take them up to our stuffy New York apartment and put them in water.  Can you imagine how hurt my feelings were when I discovered that those perky little yellow buds were not flowers, but in fact weeds? 
Life is like that… it's all about perspective when you think about it.  What do you see when you look at the wide world and the life you are blessed to be living? Do you see your life as a garden overgrown with the white wisps of future weeds? Or do you see flowers that spread like wildfire with the ability to express the sacredness of love? 
I have always lived by the mantra that, "What you call it, it will become."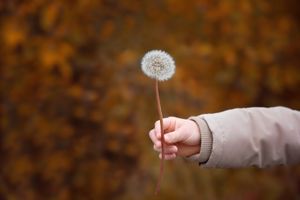 If you call a child stupid or ugly or unwanted long enough, they will listen and believe what you say and act accordingly.  If you call yourself stupid, or ugly, or unworthy, then pretty soon you'll take on the false attributes of these titles. Even though the Lord has never called you any of these things… 
What if we took the ugly bits of our lives and began to call them great things, what if we called them God things? What if instead of us always complaining about our bodies, our eyes, our voices, our jobs, we began to call ourselves fearfully and wonderfully made?
What if we started looking at life and instead of thinking nothing will ever change, we started thinking about the promises of God – that all things were working together for our good? That we could cast our cares upon Him because He cares for us, that we were fearfully and wonderfully made? 
What would life look like if we started seeing flowers instead of weeds? 
And what joy would we have if we gathered those weeds and handed them as an offering of love to the Creator of the Universe? 
April 5th is National Dandelion Day… (Seriously) what are you going to do about it!?
I'd love to hear your feedback, feel free to leave a comment below or shoot me a message.  And if this blog blessed you, please share it with someone who might benefit from it. 
#nationaldandelionday #findingmorejoy #joyonthejourney #fearfullyandwonderfullymade