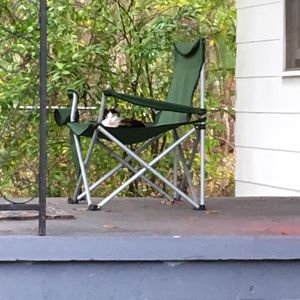 Florida is full of roaming cats of every color, kind, shape and size. They gather under crawl spaces, invade your yard and sprawl on your car. They squeeze into impossibly small spaces while scampering on the roof or romping overhead invading your attic. These strays declare your porch their property, sunbathing on your patio furniture and obnoxiously daring you to shoo them away. There was the one in our old home that brought Jon gifts of dead things, but kept our green spaces free of vermin. I named him Skittles. 
In our current house, tucked away in a grove of trees and creeping vines, Patches ruled. She became such a bold fixture that the dogs just nodded respectfully when they came out for their daily walks. Annoyingly imperial, but after a while much appreciated. And well… I guess even loved. 
A few weeks ago, I was pulling out of our driveway and glanced behind the trash can awaiting pick up on our corner. There was Patches lifeless, halfway hidden by greenery.  My heart shattered and boiling tears streamed down for this lone stray cat. It was too much, a tipping point that brought me to a place where I knew I was too tired, stressed and isolated. 
Those tears were for Patches, but they were for so much more. Although I find it easy to share my emotions in story and song it's hard to share what I'm feeling at the exact moment I'm feeling it. I often live in my head, it's that melancholy artist personality. But in mourning the loss of Patches I instantly understood that something deeper was going on. 
The last three months had been wearying and seeing Patches, laying there took me over the edge. Bianca, my chihuahua needed major surgery, the second in a twelve-month span. In the midst of trying to grow my businesses and the ministry, my house had gotten cluttered and disorganized. I mean the place was trashed, clothes, books and paper everywhere and laundry piled to the ceiling.  Jon had been involved in a serious car accident, the kind where you walk away only because of the grace of God.  Someone who demanded more than I could give at that moment said something so amazingly nasty to me about my character that it felt like an open handed slapped in the face. My grandmother had gotten ill causing my mother to rush home, Jon was working double shifts and I never saw him and our dear sweet Pastor Sneed from Nashville had passed away. 
How do you have joy when the pressure is so unbearable that you can't breathe?  How do you keep seeking the face of the One your soul loves when it feels like your life is a jumbled as your unorganized office? 
Sometimes you don't breathe, sometimes you just hold your breath and stop seeking. I was angry, sulky and tired. I fell into a piece of cake and cursed myself after. I closed my ears pouted and withdrew.  It's a nasty dark place and I didn't like it, no, not all.  Finally, I made a decision, it took more energy and facial muscles to frown then it did to smile.  I was done being a prisoner of my own discontent. That's when the Word of God whispered to my heart… 
Come back to the place of safety, all you prisoners who still have hope! I promise this very day that I will repay two blessings for each of your troubles.   Zechariah 9 Verse 12 New Living Translation 
The choice was mine, would I be overwhelmed by the troubles of this life or overwhelmed by His promises?  This is the place where you begin quoting His promises to yourself. This is the time when you turn off the TV, cut out social media and stop comparing your life to the perfectly polished ones displayed on Instagram.  This is when you discover that even Jesus had an inner circle and that it is alright to love people but limit their access to your heart. This is when you take inventory and cut out projects that are not vital to the season the Lord has placed you in. 
These are the choices I made and I sought the Lord and simply asked Him for help. That simple prayer was more than enough and help came, it always does. And as with all things, this to did pass. There is a new car in the driveway and Bianca made it through her surgery.  And just like the Lord put a rainbow in the sky as a sign of His promise, He sent me a promise as well.  As I was driving up my lane a few days ago I saw a young calico cat romping in the neighbor's yard with a small group of wild kitties. 
Still a kitten but old enough to take care of itself I knew instantly who the cat belonged to. Lo and behold, it was the daughter of Patches…
Naima
#personal struggles #faithandfear #fightingoverwhelm  #godspromises #grief