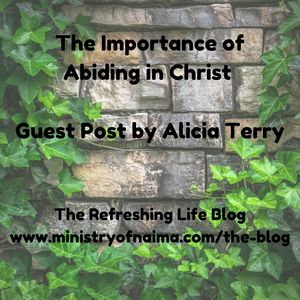 The Importance of Abiding in Christ - Guest Post by Alicia Terry
This post is a bit different than what I normally write, but I hope my recent experience will help someone who may have gotten off course get back on again. 
Here's My Story 
I did it again. I set myself up for failure when I focused my eyes on the mission at the expense of keeping them on the Master. 
I got back into the mode of trying to write impactful blog posts and even a book in my own strength. To be honest with you I don't know exactly when I pushed God out of the process, but when it happened I lost my focus, drive and ability to hear the words God would have me say.  In short, I was attempting to write anointed words without the One who gives the anointing. 
Where Things Went Wrong 
I tried to make things happen in my own strength and all I got in return was a lack of energy to get anything done.  I felt physically tired and emotionally detached from the calling I knew God had given me.  
Where Things Went Right 
Then something interesting happened… 
In two separate conversations with long-time friends we discussed the goodness of God and the call of God on our lives. I felt excited and energized. 
I basked in His presence as I listened to worship music and my soul was refreshed and a weight was lifted. 
In reading the book, When God Calls a Writer, plain but powerful words admonished readers to focus less on the calling and turn our attention to the One who is calling us. Not only was I immediately encouraged, but also set free to be about God's business again. 
The deal was I had to stop trying to do things on my own. I needed to re-establish myself in the Vine. Jesus tells us: 
 "I am the vine, you are the branches. He who abides in Me, and I in him, bears much fruit; for without Me you can do nothing." (John 15:5 NKJV) 
Where Are You Abiding? 
If things are falling flat for you and you're struggling to make things happen in your life don't go another second without answering the question, "Am I abiding in Christ?" Our lives, businesses, gifts and talents will never reach their full potential and impact apart from Him. 
Don't be afraid to assess yourself. Let today be the turning point to get back on track if you've gotten off track. Abide in Jesus and allow Him to breathe new life into everything you do.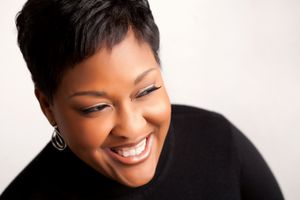 As the owner and founder of Idea Haven, a communications and training practice, Alicia Terry helps entrepreneurs, teens and women clarify the message around their mission so they can attract and connect with the people they are meant to serve. You can learn more about Alicia at aliciaterry.com and connect with her on Facebook.