The Joy Challenge 2019 by Dr. Naima Johnston Bush, Founder, The Refreshing Life
#storiesoffaith #findingjoy #joyfulliving #lifeofjoy
I'm on a mission to bring more joy to my life. I have a habit of worrying to much, forgetting to live in the moment and letting go of things I have no business hanging on to. So for the next few months I am starting a grand journey, launching off into the deep to hear the laughter of Jesus... I am trying to learn to live in the pleasure of the Father.  
That means more then just doing things that are fun and make me laugh.  Learning to live in the pleasure of the Father means sometimes doing the hard and scary things like being a witness, serving in areas that are a challenge for me, being bold in sharing the gospel.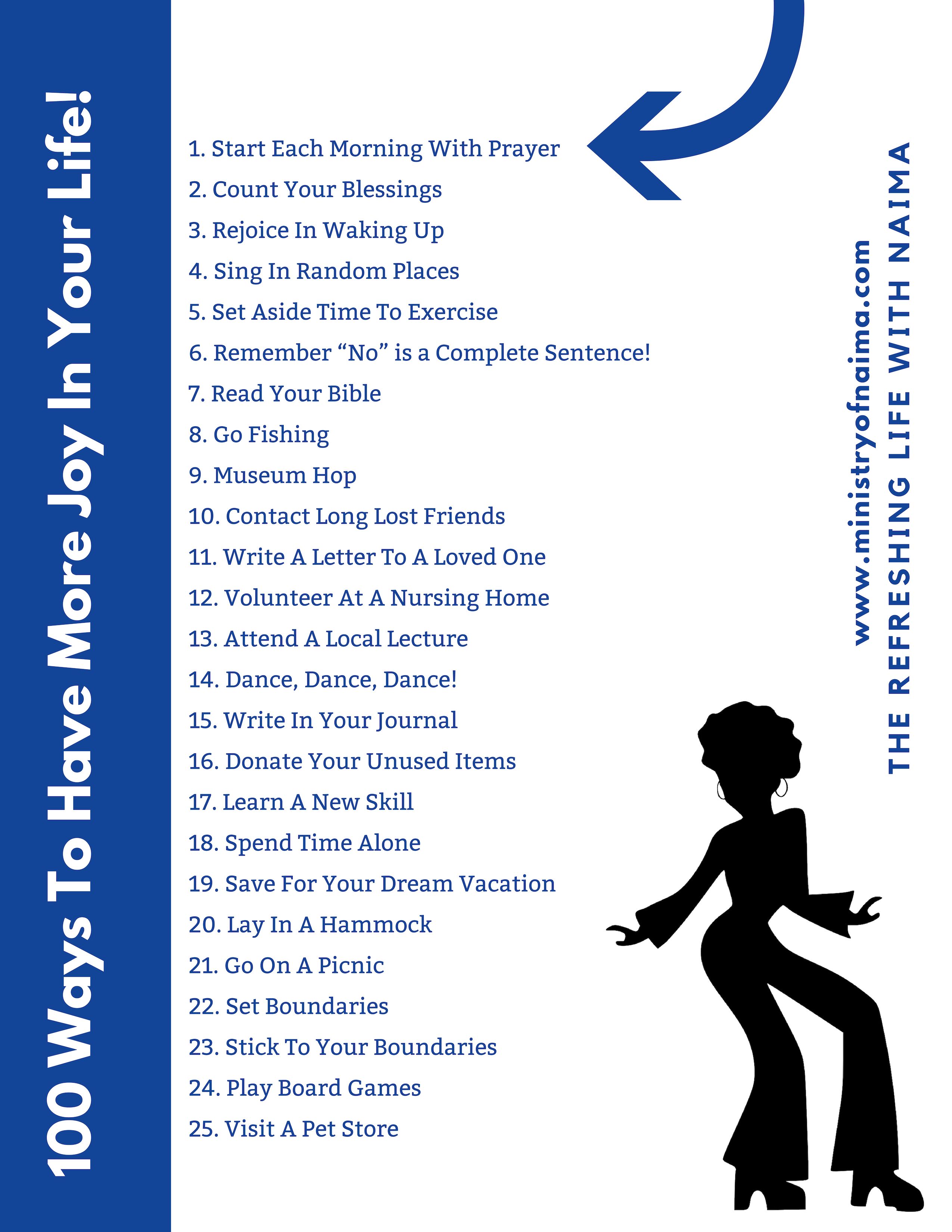 It means reaching for deeper intimacy with the Lord, immersing myself in His Word, seeking His face and finding refreshing in prayer, in learning to discern that still small voice again and moving quickly to do what He has called me to do.  
And it also means being downright silly, sometimes eating the ice cream, rejoicing in the love of my husband and playing tea party with the toddler who has taken over my home and heart.
Life is short and I don't want to live it worried about how long we'll have these children in our lives, if my liver disease will take me out, wishing I spent more time reading my Bible, sharing His word and singing His song. 
This month I commit to resurrect my joy, like Christ resurrected from the grave! And I'm going to start with picking things off my list - 100 Ways To Find More Joy In Your Life to try to bring a smile to my heart.
This month, I commit to doing at least 10 things on the list to the right of 100 Ways To Have More Joy... this is only the first page, but I'd love to share all 100 with you!
So, I'm on a journey to joy and I expect it to be a wild ride. I'm rolling with Jesus and I'll be documenting the journey with pictures, videos and blogs. Who wants to roll with me?
I'd love to hear your comments or questions. And if you are interested in following along or going on this journey with me email me simply saying, I want to go on the journey! Journey To Joy Sign Up
Want a copy of all 100 Ways To Bring More Joy To Your Life?
Get your digital download here: