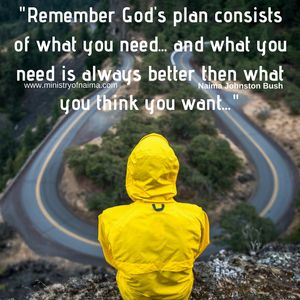 The One by Dr. Naima Johnston Bush
We all desire to do a great work for the Lord and for the last several years I've had a pretty solid definition about what doing a big work for the Lord means.  I have shifted my ministry focus, started projects, shut down programs, all to pick up again in a whole different area.  When your heart longs to be of service to the Lord and to His people, it is extremely easy to get sidetrack by the multitude of needs that bombard you. 
It doesn't help that I have dog and squirrel syndrome… You know, when a dog sees a bushy tale flash around the corner of a tree and tears off like a mad hound pulling his owner like a limp noodle.  My goodness, the poor Holy Spirit being dragged around as I jump from project to project without staying the course. 
What is the course? I believe that when you get off track you should go back to the original dream, the original vision, and most importantly… the original word that the Lord spoke to you. 
And that is what the Lord has been whispering in my ear, go back to what I first told you.  I have been so focused on building a ministry with a goal of touching first 1,000 women and then 1 million women that the most important person has not been at the forefront of why I do what I do.  
The One.  The one person whose life might be changed through a word that the Lord has given me to share.  The one young woman I can inspire to be a wife of excellence by sharing my mishaps.  The one called to ministry with no idea where to start who can learn from my multitude of mistakes. The one who needs a song to brighten their day, a community to uplift them, a prayer warrior to help them pray through the challenges of sickness, infertility, lack, depression, food addiction.  A friend to come along side them to laugh, share the joyful moments and point to His faithfulness and goodness through stories, music and art. It's so much easier to find success when you focus on one person at a time...
There are so many dreams I hold in my trembling hands.  I'd be a liar if I said I didn't want to sing to nations, see my books touch millions of lives, speak a word with such power and truth that the captives are set free.  But I've come to understand that these are my dreams.  
And sometimes my dreams are not the dreams of the Lord.  So back to the basics we go, surrendering what I think is a great work for an even greater work.  The work that He has willed for me to do.  When I first started this journey in fulltime ministry so many years ago, my heart was to simply meet the needs of those around me and sing the songs God had given me. 
I'm going to stop chasing squirrels, stay the course, sing a song and go back to the first things the Lord laid on my heart to do.  I'm going back to my first love and going after The One… 
Go back to your first true love and joy will be found again.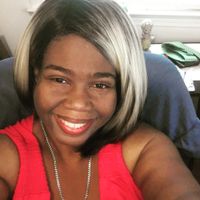 Naima is the founder of The Refreshing Life Network and would love for you to join us in our Facebook Group where we are learning to live lives of joy, powerful prayer and thanksgiving! 
Join the Refreshing Life Group by clicking here: Refreshing Life with Naima