The See Saw by Dr. Naima Johnston Bush, Founder, The Refreshing Life with Naima
Balance… that's what I'm learning these days. Sometimes life is like a tipping scale, or a see saw, spend too much time on one area and the see saw goes wacky and tosses everything on the other end high into the air! My see saw has my personal life on one end and my ministry/professional life on the other. Over the last month I've seen that see saw totter back and forth unevenly most of the time. I've seen quite a few things go flying as well! And the fall out has not always been good… have you ever seen a little kid get tossed from a see saw, there is usually blood involved in those crash landings. I personally have been on the losing end of a see saw battle, dropped so hard my teeth chattered and my backside ached. I've been flung so hard and high I had to grip the little handle for dear life.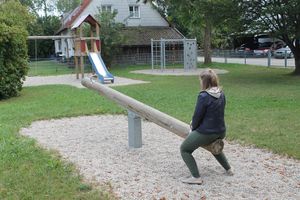 What I've been learning over the last month is that it's ok to let the see saw swing, you can't always keep it perfectly balanced although for your own mental health and spiritual peace you should try.  You should also know when not to try so hard. Christ should always remain in the center… think of Him as that brave older kid who stood in the middle of the see saw balancing perfectly as you rode up and down. A good see saw ride should be smooth, going up and down equally, with little stress and with great rhythm. The point is to enjoy the ride! If you have a dream, a ministry, a desire deep in your heart that your working towards make sure you're taking time to balance the see saw, let Christ stand in the middle helping you to balance and enjoy the ride! 
 Keeping Balance 
- Stay in prayer, keep Christ in the center 
- Make time to read your Word, pray, meditate and be involved in church 
- Determine what your priorities are and make decisions for your life based on these priorities 
- Schedule personal time and stick to it 
- Take care of yourself, exercise and eat right 
- Don't work after the time you've set as the end of your work day 
- Deal with problems right away, don't be afraid of confrontation, handle conflict in a Christ like manner 
- Always pause to listen to your loved ones
- NO is and always will be, a complete sentence.
Want to learn more about Balancing your life? Contact me for more information about, Joy School, a program specifically designed to bring more joy, more prayer and more thankfulness into your life! Contact Naima!