One of the biggest frustrations I hear from women is that they have a hard time hearing from God. Though they earnestly seek His guidance, they sometimes can't find it. 
Does this sound familiar? 
It's not that He's hiding; it's that there are too many things creating static on our line of communication with Him. It's like when you're on a call with someone and all the sudden the only thing you hear is white noise. You've lost connection. 
We want clear communication with God so He can guide our steps as walk out our purpose here on earth. As we're moving through life, we need to continually ask for direction from heaven. 
Our responsibility, no, our privilege, is to maintain a clear channel of communication. So often that channel gets muddied. Static on the line! White noise. Then it becomes near impossible to hear the whispers of our Maker. Yikes. 
What creates the static on the line? 
1. Stress 
2. Processed/packaged fake foods 
3. Sugar 
4. Lack of hydration 
5. Lack of nutrition/nourishment (God food) 
While those things muddle up our communication heavenward, they also mess things up for our earthly body. It shows up as… 
1. Excess weight 
2. Chronic health issues and disease 
3. Aches/pains 
4. Lack of energy 
5. Lack of confidence 
6. Emotional issues like depression, anxiety 
7. No zeal for life. You almost feel like a shell of yourself. 
So, how do you reclaim your health in order to re-establish your heavenward connection? Great question. Glad you asked! 
It's definitely not a quick fix or about taking a pill. 
It's about cultivating a new lifestyle. 
It's a journey of re-connection with self and with God. If you take a pill or opt for a "quick fix," you're missing out on this beautiful journey of re-connection. (Also, a 'quick fix' isn't a lifestyle and you'll fall back into old habits immediately…) 
Here are some practical steps to reclaim your health and clear the static on the line to God: 
1. RENEW YOUR MIND. A new lifestyle of healthy eating first starts in the mind. Your thoughts control your actions. Your mindset is imperative for creating the health you desire. We want high-vibrational thoughts and ideas inhabiting your mind. There's a lot incorporated into this step. 
First, no more negative self-talk. No more fighting with your body. This creates stress in the body and pits your mind against your body. We want your mind, body, and spirit to work TOGETHER to create the health you deserve. It's the only way. 
Next, be conscious and intentional with your daily choices. No more autopilot. Be mindful when you're eating and think about why you're eating. Listen to your body. Third, check your beliefs. Most of us have old beliefs that are keeping us stuck or preventing us from creating the health we want. Things like, "I'm too old," "I don't have time," "There are too many things already wrong," "It's too expensive," "It's just in my genes, I have no control," "I've always been this way, so I'll always be this way," "It's too hard," etc. It's time to re-write your beliefs so that they are supportive of where you want to go with your health. 
"Do not conform to the pattern of this world, but be transformed by the renewing of your mind. Then you will be able to test and approve what God's will is--his good, pleasing and perfect will." Romans 12:2 
"Finally, brothers and sisters, whatever is true, whatever is noble, whatever is right, whatever is pure, whatever is lovely, whatever is admirable--if anything is excellent or praiseworthy--think about such things." Philippians 4:8
Next Steps...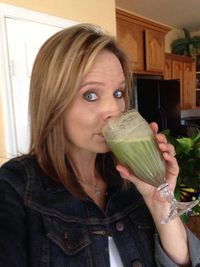 This week focus on renewing your mind so you can clear the static on the line!  Join us next week for the conclusion of this article, three more great tips and a great smoothie recipe for you to try!
Join us next week for Part Two of Casey's Blog!  Until then... Have Questions? Contact Casey Here: Email Casey