The Weapons of My Warfare! A Teaching Blog by Dr. Naima Johnston Bush, Founder of Refreshing Life with Naima
There are dangerous times afoot. We face the attack of the enemy at every turn, in our churches, schools, homes, jobs, supermarkets, airports and even the movies. Now more then ever we must arm ourselves, we must take up our weapons and be prepared to go to war! But the weapons I speak of are not guns or knives… I speak of weapons more powerful then bullets, mental illness and the plans of the devil. 
The scriptures tell us in 2nd Corinthians Chapter 10 Verses 4 and 5 that: 
The weapons of our warfare are not carnal, but mighty through God to the pulling down of strong holds; Casting down imaginations, and every high thing that exalteth itself against the knowledge of God, and bringing into captivity every thought to the obedience of Christ. 
The purpose of the weapons that the Lord gives us is to bring us to a place where we walk and live in total victory and obedience to Him and through Him.  Something I know I am still personally working on.  When we are able to walk according to His plan, hear and obey and live a lifestyle of worship, we can walk in confidence and not fear and we are prepared to set the captives free and can boldly go about the business of doing so. What are these weapons? They are the weapons of reading, studying and memorizing His Word and learning to stand on His promises, speaking the Word of God in every situation and circumstance, good times and bad times.  The weapons are also prayer, intercession, praise, fasting, singing, shouting, dancing, worship, obedience, sacrifice, tithing, serving… It is ultimately living a life according to to His will.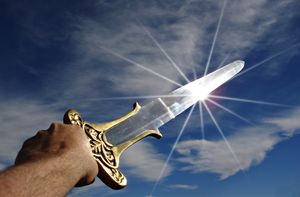 The Lord has already promised us the victory, He's given us the tools to walk in obedience – He said in His word that the gates of hell would not prevail against the church, and since the Lord cannot lie we better believe and better get to learning how to use the weapons He has given us to complete our battle assignments. 
If you don't know the purpose of a thing, if you don't know why it's important, you often abuse it or you ignore it and don't use it. Like a tablet or even a smart phone.  Many of us don't take full advantage of all the gadgets and features that are contained in these tools.  Super organized folks use their phones for everything, they understand all of the workings of the tool and thus they reap all the benefits of it. 
Like obedience and worship, if we don't know how these tools connect, if we don't understand how they are used in our daily warfare, then we can't reap all the benefits of them.  If you want to truly connect with the Lord, truly worship him and show Him you love him – you must obey Him. Often the struggle in this area begins with a thought… a thought that leads us astray and cause us not to do what the Lord tells us to do. 
We overcome the world through living a lifestyle of worship that first recognizes who God is, how powerful He is, how holy He is and how He sacrificed for us. Through these recognized facts, we choose to make Him Lord of our life.  We also know that every day the battle rages, but with the Lord on our side and through seeking to live a life of obedience, we become battle ready. When we apply the weapons we are able to submit our minds to Him, we are able to overcome temptations, make Godly decisions and regulate our thinking. In our personal prayer time and in studying and applying His word we get to know the Lord intimately, that's where we learn of His heart, hear His voice, understand His love and become empowered to love and fight on the behalf of others. 
That's how we learn to start using our weapons, that's how we start to control our thinking and live a life of obedience.
Are you ready for the battle? We'd love to hear your thoughts - leave us a comment below!