This Is Not a Punishment by Dr. Naima Johnston Bush, Founder, The Refreshing Life
How do you reconcile praying for something and feeling like the answer is no, and will always be no? I have tried my best to handle my infertility with grace and most importantly with faith. Walking through the stages of mourning from questioning, to anger, to bitterness and grief.  Finally making peace with my empty arms despite wanting to hold on to the dream with mustard seed faith. Trying to believe and receive the prophetic words that still come declaring that there will still be a child. 
But at forty-seven all I can do is say, "I believe, help my unbelief, let Your will be done!" 
We always planned to adopt so bringing foster children into our home with a husband who was adopted was just part of the dream and we shared with our Social Worker that we only wanted to foster children that were ready to be adopted, those already in need of a forever home. 
When they plopped a two-year-old and a two month on our doorstep we were ecstatic. And then we got to court, and we met mom and much became clear.  She had no intention of giving up her children, she didn't appear to be a drug addict or unwilling – rather she seemed like a young mother who had fallen on hard times and needed some help.  What were we suppose to do in that moment when the Social Worker asked if we wanted to keep them while she got things together? And even more alarming to me, we were asked if we wanted to keep them both. I was appalled, we were already in love with them and they were siblings, we don't separate siblings, no – we don't rock like that. 
I have to be honest, I was heartbroken, but I wouldn't admit it.  It looks like I will love and raise them for a season and then give them back. My gut twists even writing the words. With so many people clamoring to tell us congratulations, to give us helpful items, to step in and help us care for them, makes the burden all the harder to bare. 
These are not my children, although I am charged to love them like Jesus loved them, and quite honestly, I would give my life for them.  I already mourn the day when I have to pack them up and send them on their way.  And I must admit it is really difficult not to let bitterness creep in while the devil is whispering in my ear… "God made you infertile, now He's given you children that can never be yours." that's enough to allow bitterness more then a foothold in my life.
I wrestle with the perception that the Lord knows my mother's heart, He knows the grief of my infertility. He knows how I've cried in the middle of the night and felt like less then a woman because I could not birth a living legacy. Children are a legacy of the Lord. That's what the scripture says. 
This denial often teases me to think that I am being punished.  Have I done something to offend the Lord that He would allow me to watch my former youth group kids have numerous children, or the young ladies who I prayed with in Nashville for husbands now having beautiful additions to their families? Or what about all the women who take this enormous gift from God and destroy it? 
I have cried out to the Lord seeking the answer, asking how have I offended You? Have I not loved enough or served enough or given enough? And the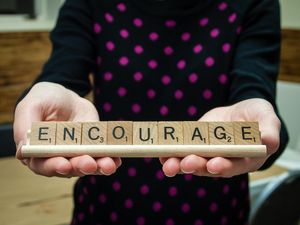 heavens remained silent. Until I came across the following passage of scripture: 
 "What a wonderful God we have—He is the Father of our Lord Jesus Christ, the source of every mercy, and the one who so wonderfully comforts and strengthens us in our hardships and trials. And why does He do this? So that when others are troubled, needing our sympathy and encouragement, we can pass on to them this same help and comfort God has given us. You can be sure that the more we undergo sufferings for Christ, the more He will shower us with his comfort and encouragement. 
 We are in deep trouble for bringing you God's comfort and salvation. But in our trouble God has comforted us—and this, too, to help you: to show you from our personal experience how God will tenderly comfort you when you undergo these same sufferings. He will give you the strength to endure." 2 Corinthians 1:3-8 
It's a hard pill to swallow but His word never lies. The Lord must really want to comfort, strengthen and help me walk this broken road. This isn't a punishment. Somehow my infertility, the potential loss of these babies that have nestled under my heart, are burdens that I must let Christ carry through me. These are seasons I must walk through so that someone else might be comforted in their own time of questioning, uncertainty and grief. 
When I accepted the call to be an encourager of God's people, I never knew when or where I'd have to encourage others. I choose to accept in this moment, infertility as a blessing, not for me but for someone else who is walking through this shadow. And if I should pack these children up and send them on their way, I choose to believe that this is not a punishment either, but somehow this part of the journey will be one more opportunity to run into the arms of my Father, who sometimes makes decisions that are in my best interest, but I won't understand until I'm older.
And later on, I'll be able to encourage someone else to do the same.
I'd love to hear your thoughts! Feel free to share your comments and questions below.
#adoptionstory #adoptionjourney #fostertoadopt #infertility #copingwithinfertility #infertilityandfaith
#fostermom #griefandfostering
Photo Credit: Image by MorningbirdPhoto from Pixabay