We Needed Her by Dr. Naima Johnston Bush, Founder, The Refreshing Life
Sometimes I want to throttle the two year old in my house.  Not seriously, but when I find Cheerios in the oddest places, when she refuses to take no for an answer, when she floods the bathroom after distinctly being told not to touch the faucet, I am amazed at her audacity. Her logic often alludes me, her capacity to forget a simple request and her willingness to get sidetracked by baby sharks and paw patrols leave me frustrated, snappish and tired. 
And who wouldn't be tired when being jarred out of sleep after finally getting the baby down by a little voice demanding Apple Juice or wanting to, "Get Out" of her bed.  Her needs are apparent and they extend beyond the basic needs for life. She needs lots of hugs, she does not like to be left alone, uncertainty makes her nutty and she is a true attention hog.  Typical for most toddlers, but imagine the typical turned up to the tenth degree. We don't know much about her past, but we pray over her future and try to love her hard in the present. 
When things get hard, when she frustrates me to the point of anger or I'm tempted to say the wrong thing I remind myself she is two and she's survived things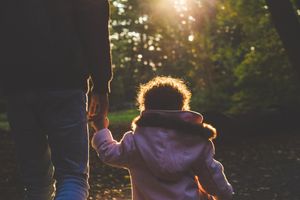 I can't even imagine – most foster care children have. I ask myself what would Jesus do and try to rethink my approach while applying the easy answer, the self-righteous answer, the answer that makes me the savior and she the one in need of saving.  The answer… she needs me, I can't forget, she needs me. 
Then just a few days ago, when she had been banished to bed for some rude transgression that had pushed me to the edge of sanity, I walked into my bedroom and was just about to reiterate to my husband how much she must need us since we were in the middle of another test of patience that required unlimited compassion and love. But I had fallen short and sent her to bed thirty minutes early. 
And the Spirit of the Lord spoke to me at the moment – "You need her just as much as she needs you."  
I needed her? The more I thought about it and prayed over it, the more I understood that I did need her. I knew I wanted her, any woman who has struggled with infertility and wants a child more then anything understands that wanting. No, I needed her, it was well past wanting, I needed her, so that I could become more like Jesus. 
I need her remind me that Christ loves me no matter what silly transgression I commit. That He expresses this love regardless of what I or don't do, that no matter what happens He blesses me with grace and compassion. And that I have to learn to love like that as well, not out of obligation but out of joy. 
I need her to illustrate how Jesus never gives up on me, even when I forget to do what He told me to do, when I get sidetracked on the way to accomplish His will for my life, when I make a bad choice and have to suffer the consequences. 
But no matter what… Jesus is there, with a big unconditional love that never fails and my toddler pushes me to that standard every day.  Because after getting in trouble or making me nuts, there she is ten minutes later with the most beautiful smile, big eyes on me full of trust and love. I need that. And my promise to her, her brother, and even her biological mother is to give her big unfailing love right back. Just like Jesus.
#fostercare #adoptionstory #fostertoadopt #toddlermother #learningtoparent #lovinglikeJesus