You Are Much Too Old by Dr. Naima Johnston Bush, Founder of the Refreshing Life
Recently I was reminded of The 2nd Annual Called to Sing Retreat that occurred in 2011.  It was an amazing gathering of artists who came from as far away as Maryland and the mighty Midwest of Illinois.  Artists eager to do a great work for the Lord, seeking direction, encouragement and a community of like minded psalmists who understood their special needs. 
As I reflect back, the most interesting thing about the group was all of the artists in attendance except one were over the age of 30.  That's like being a senior citizen in the world of contemporary Christian music.  I remember my first experience with a major Christian Artist organization when I left my day job to pursue this God given dream fulltime.  I was told in no uncertain terms at the rip age of 32 that I was much too old to expect a record deal or have a viable career as an artist.  I left that conference feeling discouraged – in their opinion, and they were the gatekeepers, I was too old to be worthwhile to mainstream Christian music. 
After drowning my sorrows in cake, I decided that I wouldn't let anyone tell me what Jesus could and could not do.  If He wanted me to have a record deal, dog gone it, I'd have it.  Since then, I've started my own label seen and done some incredible things in ministry and have been able to sustain myself as an artist for almost 20 years.  Am I rich, nope, do I have national exposure – nope.  But I am happier then I ever was working in an office confined to the limits of other people's faith.  And I believe, I've made a difference and touched a few lives in the process. 
A friend and fellow artist Katie Peltier once said that Christian music seemed to be one of the only industries that closed the door on your entry after a certain age, which is completely contradictory to what the Bible says about age.  The Bible says in Proverbs 16 verse 31 that, Gray hair is a crown of glory; it is gained in a righteous life.  And I gotta a few gray poking through this blonde wig.  Or in Job 12 Verse 12, Wisdom is with the aged, and understanding in length of days. 
What I know now, what I have experienced and learned in my early 40's can in no way compare to what I knew when I was in my 20's or even 30's.  I'm a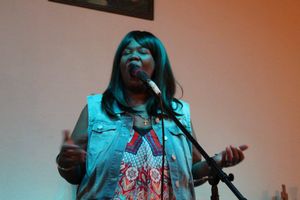 better artist because I know about struggle, loneliness, extreme joy, Godly love and loss – in multiple ways and from multiple perspectives.  I'm not saying young whipper snappers don't have anything to say – I could be my current producer's mother if I'd had a baby at 17!  I'm saying that a multitude of life experiences make for a richer artist so don't count me out cause I'm older then what a record label thinks is marketable. 
So I want to encourage someone if you are an artist or not… someone told you it's to late, you're to old, it will never happen for you.  Don't believe the lie of the devil.  Get moving on that dream, that desire, that goal.  You have much to share with the world and as long as there is breath in you, it's never to late!  
As for me, I'm leaning on Psalm 92 Verse 14, 
And you know what, I've only just begun, sit back and watch me burn… I got things to do and places to go for the Lord.  I'm on a great adventure, will you join me? 
I'd love to know your thoughts! Please leave a comment and let me know! If you are looking to launch your ministry or God given dream and you'd like a little help, pick up a copy of Dr. Nay's Guide To Achieving Your God Given Dream - get it on www.amazon.com today!